Dental Cleaning

Spokane Valley, WA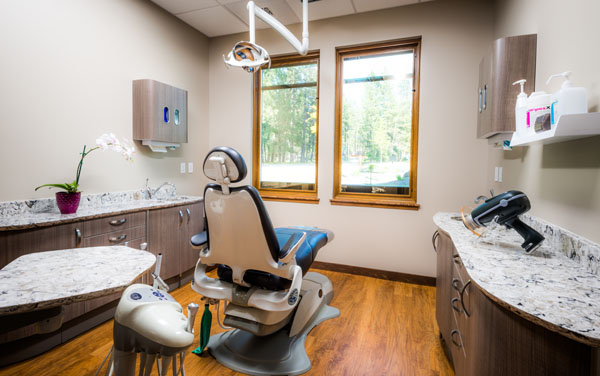 Daily oral hygiene, even if performed in a precise and systematic way, is not always good enough to completely remove all of the plaque and tartar from our teeth. To completely eliminate plaque and tartar deposits on the teeth, professional dental cleaning is needed. This is a procedure that should be carried out at least every six months in tandem with dental exams, and can be performed quickly at Coulter Family Dentistry.


Advantages of Dental Cleaning

Professional dental cleaning is extremely advantageous because, in addition to ensuring it ensures an enviable state of health for the long term, it can also be used to prevent numerous dental and gum disease. Not surprisingly, in fact, it is often a useful time to carry out dental exams and oral cancer screening.
The main advantages of the complete removal of plaque and tartar, also deep in the interdental spaces and in the sub-gingival area, is to prevent the formation of caries and the advent of diseases such as periodontitis and gingivitis. In addition to counteracting gingival inflammation, reduce the hypersensitivity of the teeth and strengthen the teeth so as to also prevent their premature fall.
Aesthetically, however, a well-done dental cleaning eliminates tooth stains, whitens the teeth and makes them shiny. In addition to preventing the retreat of the gums, a condition favored by the accumulation of tartar in the gingival collars. It can also be an effective treatment for halitosis, also due to the accumulation of plaque and tartar on the teeth.


What Does Dental Cleaning Consist Of?

Dental cleaning is performed in several steps. The plaque and tartar accumulated on the surface of the teeth, in the interdental spaces and under the gum are removed first.
Subsequently, the stains are removed from the teeth by applying a particular abrasive paste with a stain removing action and other whitening products, undergoing an additional whitening procedure. Stain removal is a purely aesthetic intervention, such as the subsequent step of polishing the teeth
On request, then, masks containing fluorine and a special paste can also be applied. The masks have the effect of reinforcing and remineralizing the dental enamel, preventing erosion and making the teeth more resistant to the attack of beating. The special paste is used to prevent or minimize tooth hypersensitivity.
Lastly, after a dental cleaning, you need to rinse your mouth thoroughly to eliminate any residual dental paste and you will have to wait at least an hour before taking sugary food or drinks.


Is Dental Cleaning Painful?

Professional dental cleaning is generally performed without anesthesia, unless otherwise indicated by the dentist or specific patient request. In some cases, in fact, you could suffer from extreme tooth sensitivity. So high as to feel pain even for a dental cleaning. In general, however, dental cleaning is tolerated, in most cases, quite well without anesthesia. There may be discomfort during cleaning or in the hours immediately following dental cleaning. However, it is a slight discomfort or burning sensation due to the deposition of tartar and plaque on the teeth. The more encrustations there are, the more difficult it will be to eliminate them.

If you haven't had a professional dental cleaning for a long time, all you have to do is call us on 509-924-1314 to book one and come to us at Coulter Family Dentistry.