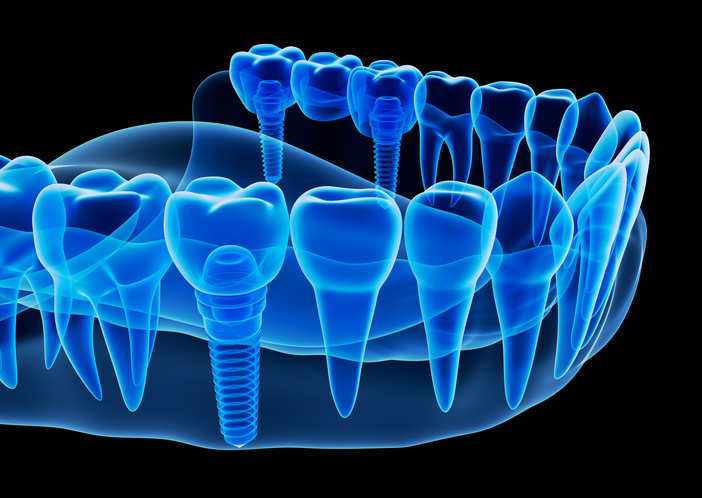 In recent years, technological advancements have greatly improved your options for restorative treatment. At Coulter Family Dentistry, we believe dental implants are the ideal choice for patients who are missing one or more teeth. Dental implants have revolutionized the tooth replacement industry. If you are currently missing a tooth or using a removable prosthesis, we strongly recommend dental implants!


What Are Dental Implants?

Dental implants usually consist of three parts:

| | |
| --- | --- |
| • | The implant screw - A screw or post that is made from titanium and surgically placed into your jaw. |
| • | The abutment - A support structure that is attached to the screw and connects the implant to the restoration. |
| • | The restoration - Implants can support some restorations, from a crown to a bridge, to an entire arch of prosthetic teeth! |

To determine if you are a suitable candidate, Dr. Travis Coulter will review your medical history, take X-rays, and perform a physical exam. To receive an implant, you must have a sufficient amount of bone in your jaw. This includes bone density and quantity. If you have experience bone deterioration as the result of untreated tooth loss, you may need to undergo bone augmentation. Bone grafts and sinus lifts are very common.

The procedure is broken down into two surgeries. During the first procedure, an incision will be made in your gums, and Dr. Travis Coulter will gently place the implant into your jaw.

The healing process takes three to six months. During this time, the implant and your bone will fuse together through the process of osseointegration. Osseointegration is responsible for the longevity and strength of your implant.

Once osseointegration is complete, we can schedule the second surgery. During surgery, Dr. Travis Coulter will expose the implant and attach your abutment. We will make an impression and send it to the dental laboratory. In the meantime, you may be given a "temporary" to protect the surgical site. After the lab has completed your restoration, we can attach it to the abutment, and restore your smile!


Why Choose Dental Implants?
There are many reasons to choose dental implants over more traditional methods of tooth replacement.

Implants give you a beautiful and natural-looking prosthesis. Implant-supported restorations are made from porcelain, a strong material that is virtually indistinguishable from your natural tooth enamel.

Implants do not affect your surrounding teeth. Other restorations, like dental bridges, rely on your adjacent teeth to support a prosthetic tooth. These teeth will be reshaped to accommodate two dental crowns. With implants, your natural teeth are preserved, which is better for your long-term oral health.

Implants are comfortable and reliable. Implants are designed to look, feel, and function like your natural teeth. Because the implant screw becomes a part of your bone structure, you never have to worry about it slipping or falling out. You will also be able to eat all of your favorite foods with comfort and confidence! Other restorations may not offer the same advantage.

Implants have a proven quality and longevity. Studies have shown that an implant-supported restoration can last decades or even a lifetime!

Implants prevent bone deterioration. When you lose a tooth, your bone will slowly begin to deteriorate over time. If an implant is placed, your bone will receive the physical stimulation it needs to remain strong and healthy!


Call Today For a Consultation

If you are interested in learning more about dental implants, schedule your consultation today by calling 509-924-1314 and check out our Dental Implant FAQ!